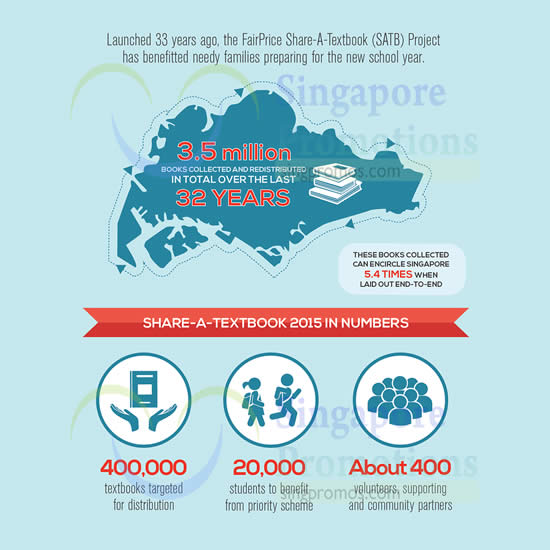 Launched 33
 years ago, the FairPrice Share-A-Textbook (SATB) Project has benefitted needy families preparing for the new school year.
Donate your
 old textbook collections with NTUC Fairprice's Share A Text Book programme
You can donate your textbooks at 152 FairPrice supermarkets, FairPrice Finest, FairPrice Xtra, FairPrice Xpress outlets at Esso service stations and Warehouse Club from today till 6
 December 2015.
Through the scheme, the public are invited to contribute their used textbooks for recycling across 152
 donation points islandwide.
FairPrice has partnered with volunteer welfare organisations (VWOs) and Community Development Councils (CDCs) to
 shortlist names of students from low-income families who will be given priority to collect textbooks before the general public is invited to take their pick. About 20,000 students between the ages of 7 to 16 years have been registered under this priority scheme.
A survey of 600 parents commissioned by FairPrice this year shows that Share-A Textbook continues to meet the needs of the community. Key findings saw 84 per cent of low-income respondents agreeing that the scheme was a good way to encourage their
 children to be thrifty. Perceptions toward receiving used textbooks were also positive, with almost nine in 10 agreeing that there is no stigma in using pre-owned textbooks and they would not feel embarrassed using them. Ninety-seven per cent also agreed that they would recommend the scheme to someone who needs it.
2015 in numbers
These books collected can encircle singapore 5.4 times when laid out end-to-end
400,000 textbooks targeted for distribution
20,000 students to benefit from priority scheme
About 400 volunteers, supporting and community partners